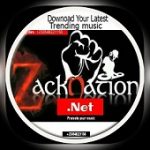 D-Black, Ghanaian musician/rapper has been trending for some hours after his alleged leaked tape circulated on social media, he finally drops first reaction.
The Ghanaian rapper reacting to the bad news circulating about him was seen with his team from his record label, Black Avenue Muzik (BAM) exhibiting his soccer skills on the football pitch.
The rapper could be seen showing his football prowess as he even scored a beautiful goal in a penalty shoot.
From the rapper's reaction, it elucidate that he does not fell perturbed by the negative social media trends about him.
When the rapper and CEO breaks his silence on speculations about him and his white lady, zacknation.net will report exactly as he says, stay tuned!!
Watch video below:
D Black , Ghanaian musician/rapper has been trending for some hours after his alleged leaked tape circulated on social media, he finally drops first reaction. pic.twitter.com/Yd33J82k3V

— Zacknation Tv (@Zacknation_) September 17, 2020