A popular Ghanaian lɛsbian has cried out on Facebook after she was abducted, drugged and r.aped for two consecutive days.
The lady whose identity on Facebook read Elladeevah Ellios, says the unfortunate development has left her traumatized and now she sees death as her only refuge and solace.
Check also:  Two Sl@y Queens Trade Blows And Kicks Over Rich Sug@r D@ddy [Watch Video]
She further stated that she is presently on admission at the Cantonment Police Hospital after she was subjected to two solid days of marathon s-x.
The young lady narrated her ordeal on Facebook saying "I was recorded, drugged and rap3d for 2 good days!! Current location Cantoment police hospital. I need all the support I can get ????????????????????. My life has come to an end, I want to die."
See screenshot of her post and video below :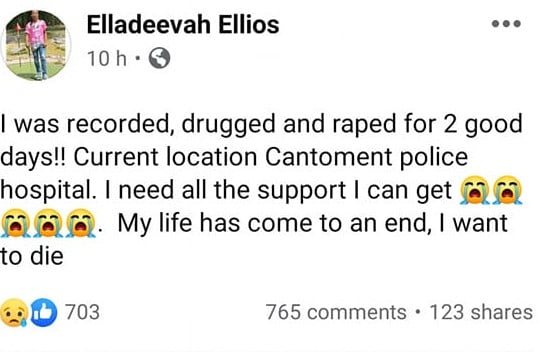 If you are a music artist, be it upcoming or famous and you wish to drop your music for fans to access it here online. Call on +233548221150