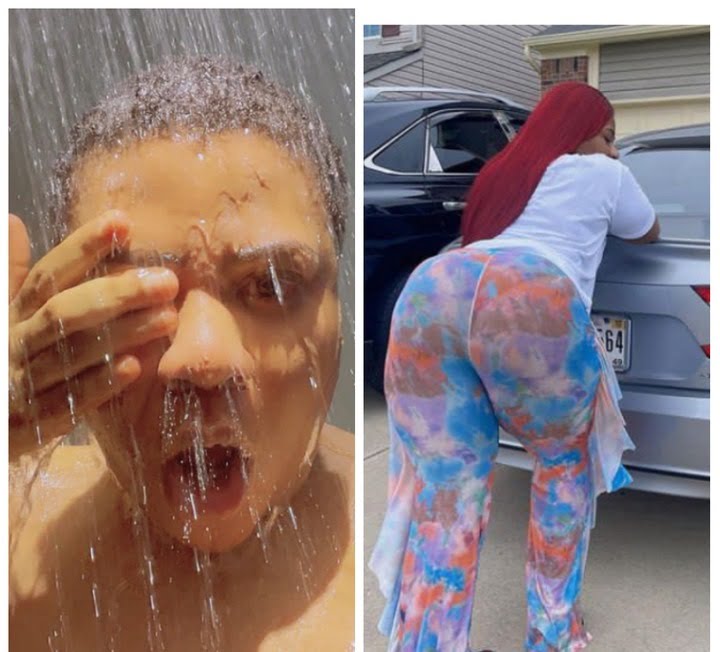 Nkechi Blessing flaunt her glowing skin on social media, however she post picture of her in the bathroom taking a shower. Although she did that because of the skin product she's promoting on her Instagram page.
Social media is another medium celebrities use to promote people business or brand. Some companies contact a celebrity that will help them influence their products in order to get more customers.
Apart from promoting skin product, she's naturally beautiful, even if she didn't use a skin product her skin always glow. Is good to keep yourself clean and healthy, although she like to post controversial picture on Instagram that will attract reaction from people. Some celebrities like to do what will make them more beautiful and they don't mind spending their last money.
Check also:  Jay Bahd – Return Of Okomfo Anokye (Full Album)
She has been doing her best in other to maintain her skin complexion. Looking good is a good business and the way you look determine how people will interact with you. One of the reason celebrities like to look more beautiful and classic is because of the brands they represent.
One of the key factor that will make you grow fast in entertainment industry is your beauty and the way you dress, that is the reason some celebrities spend huge amount of money just to have good shape and glowing skin.
That's why some skin care companies like them to promote their products on their social media handle. Fashion and beauty is taking the world to another dimension and people are ready to do what will make them more beautiful. She has the content the world is looking for and she's making it big time, one good thing about her is that, she know when to joke and when to do business.
If you are a music artist, be it upcoming or famous and you wish to drop your music for fans to access it here online. Call on +233548221150