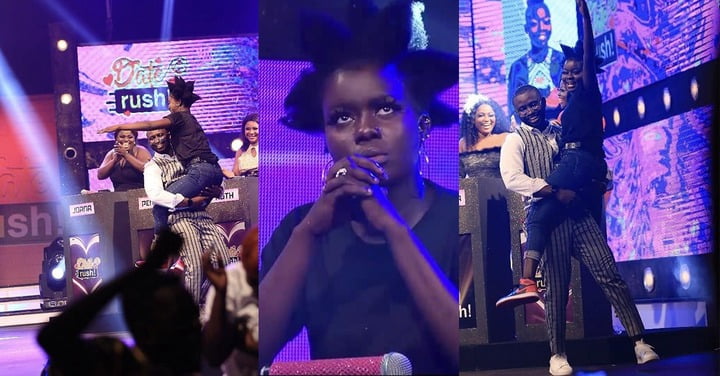 "In life, you don't have to give up, my heart was telling me to try. And I tried so it has happened. I'm very happy I have a man now". These were the words of Fatima when her dream man finally grabbed her out for a date.
Fatima could not hide her happiness as she jumped to hug the young man who put off the rush of another person to choose Fatima. Bismarck indicated that Fatima had been candid on the show and that is what made him decide to pick her. "I thought the sincerity in whatever she said and that is why I went for her. She is very real". He noted
Fatima had already been rejected by the first man who appeared on the show. She expressed her readiness not to go out of the show on the night without a man. But things turn up to be sad for Fatima. Jerimiah, who is also known as 300 Spartans was on the show with all the nice looks. Most of the single ladies on the show were ready for him after the preview of his first profile video.
Only one of the ladies went off with nine rushes still left on. Jerimiah later was left to choose between Fatima and another. Jerimiah walked to Fatima and switched off her rush. Fatima had already promised to sacrifice her school fees to take care of Jerimiah but he had a different opinion.
Check also:  "I have not chosen any date because all the boys are not serious"- Fatima Date Rush
"I'm ready to sacrifice my school fees for you. I don't even see the essence of the school so if I have to dedicate all my school fees to him, I will do it without thinking twice. I will also feature him since we are all musicians." Fatima indicated.
In spite of all these, Jerimiah still rejected Fatima for another lady on the show. With surprise in her eyes, Fatima started shedding tears. Her eyes could be filled with tears as he stands in her box shocked. She was at a loss on why Jerimiah refused to choose her upon all the promises made to him.
"I'm even shocked. I even told him I will sacrifice my school fees for him but he still said I should pack and go". Fatima indicated.
Disappointed Fatima had no other option than to continue the show and try another person. Just as she thought all hopes were lost, Bismarck came and decided to turn off every lady and go for Fatima. Almost all the ladies on the show were happy for Fatima. Out of joy, Fatima who was not expecting jumped to hug Bismarck and they walked out of the show. We wish them well.
Kindly watch the video below
"In life, you don't have to give up, my heart was telling me to try. And I tried so it has happened. I'm very happy I have a man now". These were the words of Fatima when her dream man finally grabbed her out for a date. #DateRush pic.twitter.com/mcLVIzSqmi

— Zacknation TV (@BelowGhana) June 6, 2021
If you are a music artist, be it upcoming or famous and you wish to drop your music for fans to access it here online. Call on +233548221150