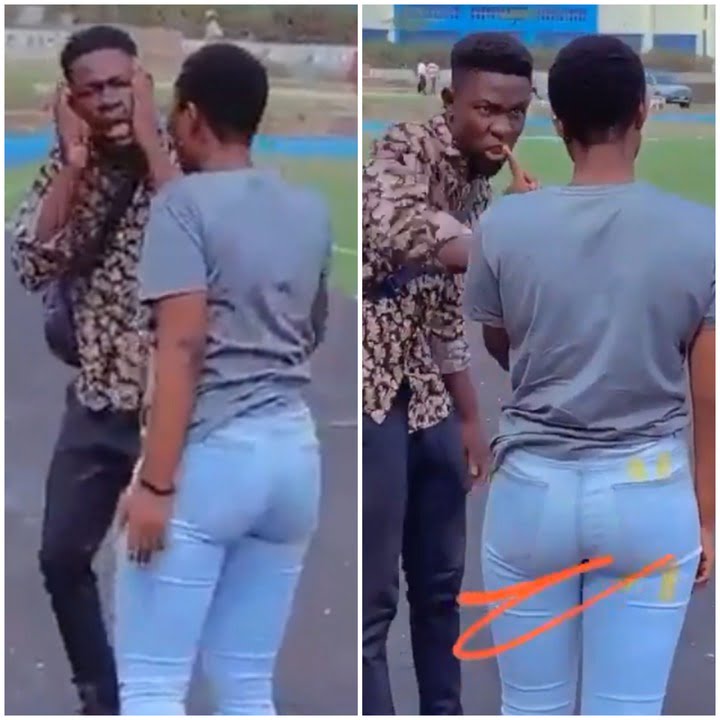 A video has been shared on Twitter of a lady who reportedly slapped her boyfriend after he told her that he did not want to go ahead with the relationship anymore.
The incident happened in the premises of an unidentified school. In the full glare of the other students and passerbys.
In the video a young girl and her boyfriend were having a quarrel in public, while other students looked on.
As the quarrel raged on, the boyfriend was heard telling her that he was going to end the relationship and there was nothing the girl could do about this.
Check also:  Jay Bahd – Y3 Y3 Dom Ft Reggie, O'Kenneth, Kwaku DMC, City Boy, Skyface Sdw
On hearing this, the lady dragged back the young man and gave him a resounding slap, causing everyone around to laugh and make fun of the young man.
The video according to some persons shows that even females too can be physically abusive when they are really provoked, just as the lady in the video was.
Watch The Video Below;
It Is Not By Force To Be In A Relationship, The Boy Was Clearly Asssaulted In A Public Place-Fans#TwitterBan , #MTNat25 , Nigeria , Buhari , Neymar pic.twitter.com/JBnvTkEe3o

— Zacknation TV (@BelowGhana) June 5, 2021
If you are a music artist, be it upcoming or famous and you wish to drop your music for fans to access it here online. Call on +233548221150